Plenty Mixers – Side Entry – Light and Heavy Duty

Plenty is backed by over 60 years operating experience and with a reference list of successful site installations that is second to none. Plenty is acknowledged to be the market leader in the field of side entry mixing technology for the oil and petrochemical industries. Modern manufacturing techniques produce the highest quality equipment, backed by ISO 9001:2000 accreditation.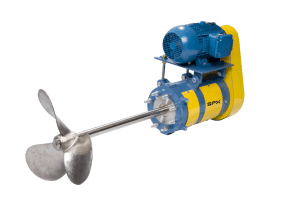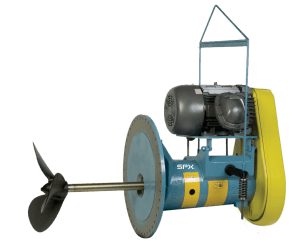 GEAR & Belt DRIVEN MIXERs in both swivel and fixed OIL STORAGE HIGH TEMP OIL DUTIES
Driven by a vertical electric motor which is flange mounted on the support bracket above the gearbox and connected by an all metal flexible coupling protected by a guard. The gearbox comprises a single reduction hardened high efficiency spiral bevel gear set having a minimum service factor of 1.5 and are designed to AGMA and DIN Standards. The gears and all bearings are splash oil lubricated and enclosed in a large gear case for maximum heat dissipation. The mixer frame is a rigid one-piece iron casting with spigot located on the gearbox and the steel mounting flange. Gear driven mixers are available in both fixed angle and swivel angle models.
SPX FLOW PLENTY SIDE ENTRY MIXER
BELT DRIVEN MIXERS WITH BOTH SWIVEL AND FIXED ANGLE DUTIES
Plenty Belt Driven Mixer Units
These are flexible power grip high torque drive (HTD) reinforced anti-static tooth belts for longer life with a minimum service factor of 1.5. The whole transmission is enclosed in a weatherproof, non-sparking guard with a fire resistant resin. Bearings are hermetically sealed for life, fully grease packed, with life ratings ISO and ANSI in excess of 47,000 hours.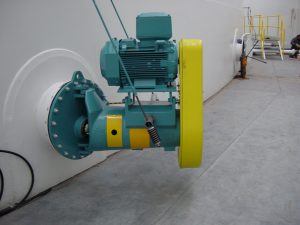 Fixed Angle Mixer
Normally used in blending applications, maintaining homogeneity, aiding heat transfer or to maintain temperature uniformity. All these applications demand complete top to bottom turnover and for this purpose mixers are permanently installed at an angle of 10° to the left of the tank axis.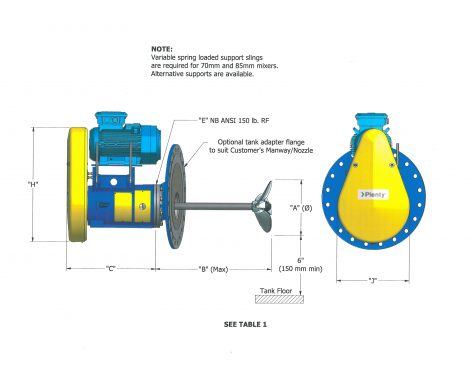 Plenty – Swivel Angle Mixer
Swivel Angle mixers incorporate a feature which allows the mixer angle of entry to be varied through 30° either side of the tank centreline in 10° increments and enables the entire tank floor to be directly scoured by the impeller flow stream. This is the only satisfactory solution to B.S. & W. control in large tanks and ensures that the heavy solids, water and corrosive salts which settle in areas least agitated by a permanently fixed mixer are maintained in suspension.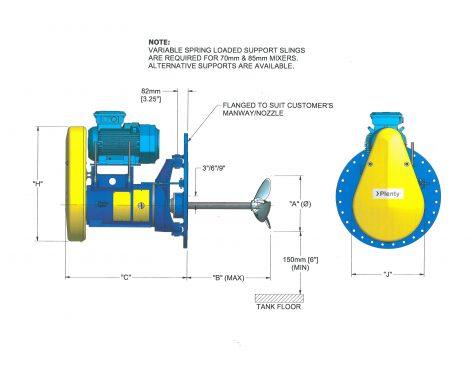 Unique Features of the PLENTY MIXER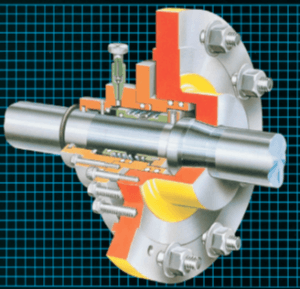 Unique Positive Tank Shut-Off Device
All units incorporate a tank shut-off device to allow the shaft seal and bearings to be changed under full tank conditions. The tank shut-off mechanism incorporates tapered metal to metal faces, positively clamped by a bolted flange which both seals products in the tank and securely supports the shaft during bearing and/or shaft seal changes.
All tapered faces are wear and corrosion resistant. The most important aspect of the Plenty Shut-off and mechanical seal assembly is that it incorporates a safety check valve for ensuring that the shut-off is 100% effective before removal of any bearings or the mechanical seal. The Plenty shut-off mechanism offers complete safety and security as it does not incorporate any flexible 'O' rings or gaskets which may deform, wear, or perish.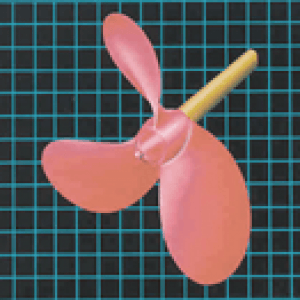 FORWARD RAKE IMPELLERS
The high efficiency true helical pitch impeller with forward rake was originally developed by Plenty for Side Entry mixers. Years of research in the field of liquid dynamics have been rewarded by a technically advanced design of impeller, having a large blade area that provides the optimum cavitation-free suction conditions promoting maximum pumping rate and entrainment for any installed power. Each impeller is accurately cast as a one-piece component, thus eliminating the setting variances and welding problems often present with alternative fabricated designs.
Advanced Impeller Design:
High pumping
High thrust
Minimum power draw
High Thrust
No Cavitation
Reliability
Standard Materials of Construction:
Impeller – Cast Iron
Shaft – Carbon Steel
Mounting flange – Carbon Steel
Impeller Fixing:
Positive fixing and driving of the impeller on the shaft is achieved by the use of taper to taper shaft connection with side fitting key and retaining bolt.
BEARINGS In every case the units are designed and manufactured to require minimum maintenance. The mixer bearings in particular have been engineered to provide long life and to maximize bearing L10 Life. A BEARING Probe wearing Monitor Unit is available.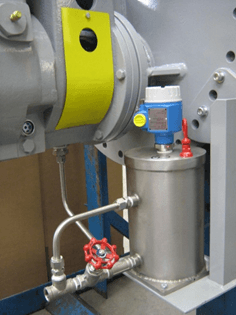 SEAL LEAK DETECTOR
Any leakage is collected and contained within a collection vessel that is equipped with a level sensor that can activate an alarm in the control room. Other leakage detection systems can be supplied to meet API Plan 65 and Plan 75 if required.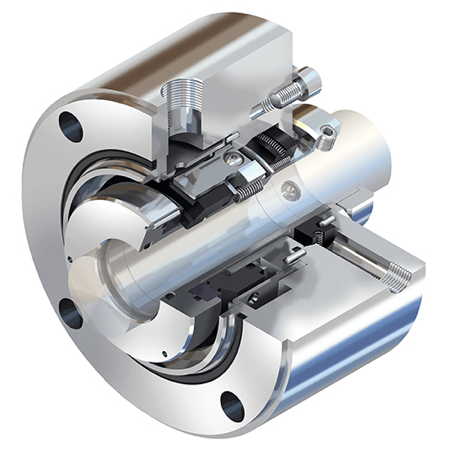 SPECIAL MECHANICAL SEAL
The mechanical seal is completely enclosed inside a housing which is fitted with a close clearance throttle bush outboard of the mechanical seal to restrict leakage rate of tank media in the event of ultimate seal failure. A safety check valve is fitted for venting the seal chamber to ensure that it is completely filled with liquid prior to start-up as well as to check that the shut-off device is 100% effective.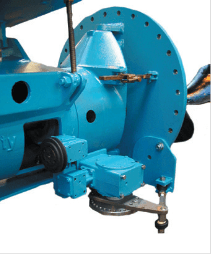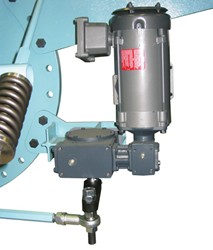 HAND & AUTOMATIC ACCUATED SWIVELS
Actuators are available for both gear and belt driven mixers. As an alternative to this manual facility, an automatic swivel actuator can be supplied as an optional extra. The use of either swivel actuator allows for efficient cleaning of the tank bottom and eliminates the need for routine manual adjustment. Actuators are available for both gear and belt driven mixers. As an alternative to this manual facility, an automatic swivel actuator can be supplied as an optional extra.
The Automatic Swivel Actuator is a shaft belt driven or an electric motor driven speed reducer and linkage, which allows the mixer to swivel 30 degrees in either direction.
Using the shaft driven actuator provides constant motion of the swivel while the mixer is in operation. This option removes the need for expensive additional field wiring.
With the electric motor driven actuator the timer controller provided will cycle every 24 hours and swivel the mixer 10 degrees each time. This allows for efficient cleaning of the tank bottom and eliminates the need for routine manual adjustment.
Intro – Plenty Side Entry Mixer