Zazula is proud to represent Milton Roy for over 50 years. As one of the most reliable metering pump products on the market, this pump  enables our customers to operate in many critical processing environments. Milton Roy's first controlled-volume metering pump was designed in the home of Milton Roy in 1936. Since then, the company has continued to expand with some of the most important advancements in metering pump technology. Significant innovations include the high performance diaphragm, hydraulic bypass metering pump drive, and diaphragm rupture detection system.
Milton Roy Metering Pumps & Accessories are available in a comprehensive range of models and configurations – from standard configurations to custom engineered products.   Milton Roy mRoyTM, MacRoyTM, MilroyalTM, and MaxroyalTM pumps offer accurate, repeatable fluid flow from 0.0081 GPH to 2657 GPH. Milton Roy products are designed for dependable performance…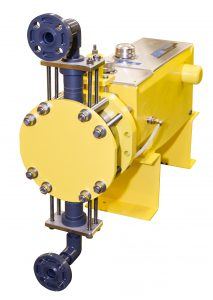 The MILROYAL® series metering pumps are the most reliable, industrial-duty metering pumps for critical processes in industries such as oil and gas, chemical and petrochemical processing, and industrial water treatment.
The key to its success is its modular design that accepts a variety of liquid ends and other options that perfectly tune it to your process requirements. With three different frame sizes, these pumps provide precision chemical dosing over a wide range of capacities and pressures.
Multiplex configurations of the same frame or a mixture of frames create even greater application flexibility.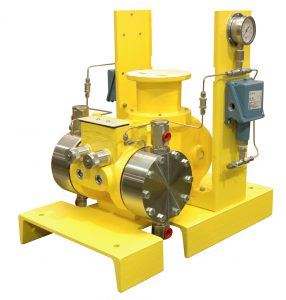 mROY series metering pumps control chemical dosing with unmatched accuracy and reliability.  This dosing pump is durable, compact in design and enables metering of some of the harshest chemicals with repetitive steady-state accuracy at a ±1% range.
With flow rates from 0.20 gph (0.8 l/h) up to 174 gph (660 l/h), it has the capability to dose a broad spectrum of chemicals in numerous process-critical environments such as chemical processing plants, municipal water treatment facilities, and remote oil production locations.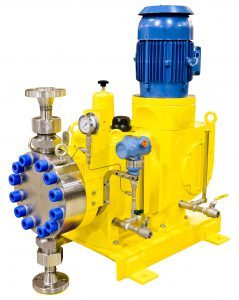 Primeroyal series pumps combine robust, field-proven technology, flexible design, and chemical delivery accuracy, making these metering pumps suitable for a large number of industrial processes.
The pumps feature a variable eccentric drive that enables precise control of the pump delivery rate while meeting or exceeding industry standards for steady-state accuracy and repeatability. It has an efficient design that achieves reliable performance within a minimal footprint.
Our latest innovation to the series is the Primeroyal X metering pump. It has been designed to provide accuracy in the even most challenging environments up to 20,000 psi (1,372 bar).
MACROY series metering pump, is an ideal pump for water treatment applications.  It is capable of handling pressures up to 175 psi (12 bar) and flow rates up to 310 gph (1181 l/h).  Combining heavy-duty industrial drive technology with state-of-the art design and manufacturing processes, this mechanically-actuated diaphragm pump eliminates flow restrictions, reduces the possibility of hydraulic oil contamination of process liquid, and ensures smooth output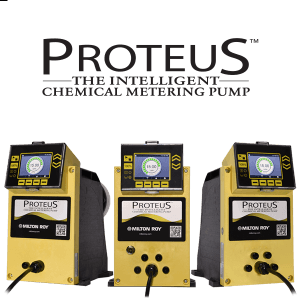 The New PROTEUS Communications Model adds support for Modbus RTU and Profibus (Process Field Bus) DP protocols to facilitate high speed, 2-way communications. This allows plant operators to link devices from different vendors to a central SCADA (Supervisory Control And Data Acquisition) system for control, monitoring, and troubleshooting activities.
Proteus metering pumps are mechanically actuated diaphragm pumps driven by advanced variable speed technology to address specific requirements of chemical addition in water treatment.  All three configurations of PROTEUS pumps – Manual, Enhanced, and Communications – also address the process control requirements of a wide range of applications including water and wastewater treatment, agricultural, chemical, oil & gas; power generation, pulp & paper, and textile industries.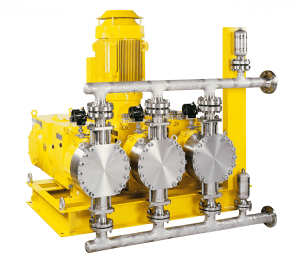 The Poweroyal positive-displacement reciprocating pump provides outstanding performance in demanding conditions. Ideal for high-pressure/high-volume applications, the pump has been designed for maximum performance in minimal space.
This pump features specially-designed liquid ends that assure head integrity, seals that minimize unwanted leaking, and a lubrication system that reduces wear and extends equipment life.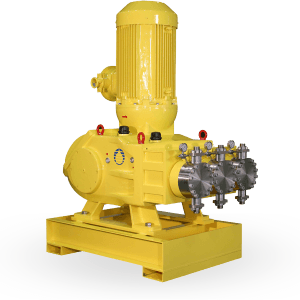 The Megaroyal process pump is ideal for high volume applications and can provide a flow rate of up to 60 m³/h (15,850 gph).  In addition, the Megaroyal pump's footprint is up to 25% smaller when compared to similar competitor options.
Documentation:
All of our purchased equipment comes with an operations manual. Within the manual is information about start-up procedures, standard and routine maintenance guides, and common troubleshooting advice.
Packaged Systems inclusive of Metering and Injection Pumps:
With ZPE, you will be partnering with a full-service provider who can support all phases of your project. Our highly qualified team can perform turn-key engineering services to deliver a customized system for your most challenging projects.
Asset Management Programs offerings:

Customers should consider one of the many asset management programs that Milton Roy offers. Zazula and Milton Roy Asset Management Programs range from Audits, Health Checks, Annual Maintenance Contracts, to a full-blown Asset Management Program, where we can assist you to assess Asset Performance, Inventory/Obsolescence Management etc.
Commissioning and/or Start-Up Assistance:
Zazula strongly recommends that you consider taking advantage of our Commissioning and/or Start-Up Assistance. From our very experienced and highly capable Field Service team who will be able to get your equipment up and running efficiently and quickly allowing you to focus on total plant effectiveness.
PROTEUS The Intelligent Metering Pump from Milton Roy
MILTON ROY'S mROY METERING PUMP