Paul Mueller Company is a world class manufacturer and supplier of Plate Heat Exchanger equipment to the food, dairy, beverage, chemical, biofuels, pharmaceutical, biotechnology, and pure water industries worldwide. Compared to shell and tube heat exchangers, plate heat exchangers of similar capacity require approximately one-tenth of the floor space. While shell and tube heat exchangers have been the mainstay of industry for many decades, plate heat exchangers are overtaking them in many sectors due to compactness, efficiency and ease of maintenance. Zazula is pleased to be the provider of Paul Mueller Plate Heat Exchangers in Alberta.

Accu-Therm® Plate Heat Exchangers
Accu-Therm® plate heat exchangers are designed to provide you worry-free, highly efficient heat transfer whether you are processing simple fluids, viscous solutions, or particulates.
Accu-Therm plate heat exchangers are a vailable in an extensive range of sizes, alloys, and frame configurations to meet your needs.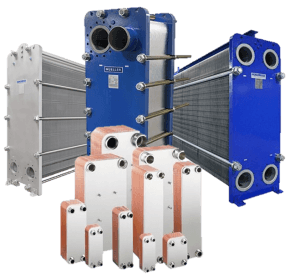 Temp-Plate® Inflated Heat Transfer Surface
Paul Mueller Company's original, patented Temp-Plate® inflated heat transfer surface is a highly versatile panel-type heat exchanger that can be welded, formed, or designed to meet your exact needs. It can be provided in irregular shapes, at high pressures, high temperatures, or in corrosive environments, and can be used as an immersion, clamp-on, or integral heat transfer surface.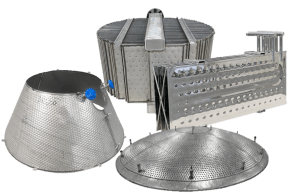 Typical Uses/Applications
Heating and/or cooling applications in
brewing,
chemical processing,
food processing,
HVAC,
petroleum,
power generation
Sizes & Capacities
Design pressures up to 350 PSI
Design temperature up to 410º F
Plate heat transfer surface areas from 0.2 to 25 square feet per plate
Heat transfer surface up to 25,000 square feet in a single exchanger
Flow rates up to 12,600 GPM
Port diameters up to 16.0"
Gasket Options
Nitrile,
Ethylene propylene rubber (EPDM),
Silicone,
Viton,
Butyl (resin cured),
Hypalon
Plate Options
304 or 316
Stainless steel,
Titanium
Avesta
SMO
254,
Hastelloy,
Nickel,
Incoloy
Frame Options
Carbon steel
Stainless steel