Solutions for Sipromac Vacuum Food Packaging Equipment
Sipromac has a number of solutions to meet your food packaging needs: vacuum packaging, shrink wrapping, tray sealing or thermoforming.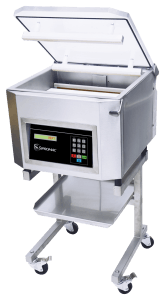 Vacuum Table Top
SIPROMAC has seven table top vacuum packaging machines of different sizes that are ideal for small or start-up businesses with a low production out put.
Models │ 250 │ 300 │ 300D │ 350 │ 350D │ 380 │ 380T
Sipromac table top vacuum packaging machines allow hotels, restaurants, grocery stores and butcher's shops to package meat, poultry, fish, cheese and other foodstuffs impeccably, every time.
In addition, these machines are well-suited for packaging pharmaceuticals, medicine or laboratory items, as well as a variety of products from the electronic and institutional sectors (printed circuit boards, cash, clothing, etc.)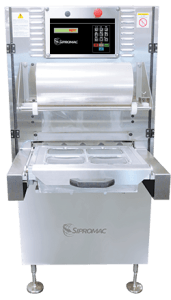 Tray Sealer
The tray sealer is for food products and for industrial and medical supply packaging. These Sipromac machines wrap each tray with plastic film, which can be up to 700 mm thick and cut the film once the product is hermetically sealed. Tray sealer accessories may be changed quickly without special tools and can be adapted to all tray sizes.
Model │ TS-30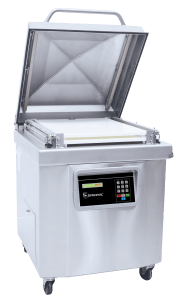 Vacuum Single Chamber
Siprovac has a line of 21 vacuum packaging machines, five of which are single-chamber models. Developed for industrial use or to package large products, these sturdy machines have two sealing bars and a spacious chamber to significantly boost output.
The single-chamber machines are easy to clean, meaning they can be used in facilities with the most stringent hygiene standards. The pivoting wheels make it simple to move the machines from one place to another.
Models │ 400 │ 450A │ 450T │ 550A │ 560A │ 580A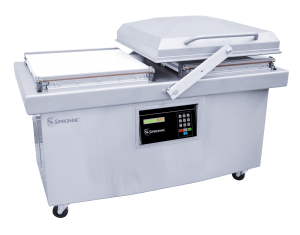 Vacuum Double Chamber
Sipromac has four models of double-chamber vacuum packaging machines, all of which have four sealing bars and two sealing chambers. The spacious chambers can accommodate high volumes of large products. The pivoting wheels on these machines make it easy to move them from place to place.
A rear conveyor may be installed on one of these machines to unload products and transfer them to a heat shrink tunnel or production chain.
Models │ 420A │ 600A │ 620A │ 650A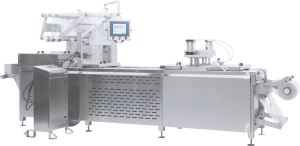 Thermoforming Machines
Sipromac has three models of automatic thermoformers. Film thickness varies from 320 to 641 mm to meet your production needs. The heavy-duty stainless steel single-piece frame carries a lifetime guarantee.
Sipromac thermoformers shape flexible or rigid trays customized to your products and cover them with a plastic film to make them perfectly sealed. These machines are ideal for production where efficiency and speed are required.
Models │ TM-050 │ TM-150 │ TM-250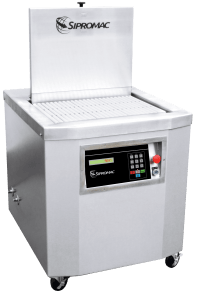 Dip Tanks & Shrink Tunnels
SIPROMAC has one model of dip tank, which holds 45 gallons of water, and two heat shrink tunnels with a buffer tank that can hold 63 to 70 gallons of water. The dip tank reservoir is heated electrically in the manner of a water heater. Models │ DT-10
The heat shrink tunnels are equipped with a conveyor and an electrically- or steam-heated shower that can spray products from the top or bottom. The horizontally adjustable conveyor allows the heat shrink tunnels to be integrated into a packaging line. The tank is insulated to save energy.
Models ST-2000 │ ST-2500