SIPROMAC FOOD PROCESSING EQUIPMENT
Enhance the flavour of processed food with our line of high-performance machines. Sipromac has a number of machines for marinating, curing, smoking, mixing or freezing foods to meet your food processing requirements'.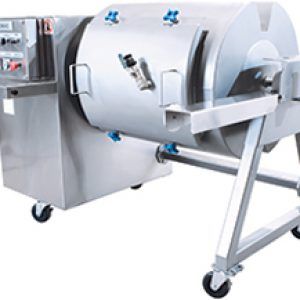 Tumblers
Sipromac has three models of tumblers, each with a different marinating capacity: 300, 500 and 1000 lb. These tumblers are easy to use and clean. In addition to tenderizing and seasoning food, Sipromac tumblers enhance food quality and texture, as well as make food juicier and more flavorful.
Models │ ET-3 │ ET-5 │ ET-10 │ VT-500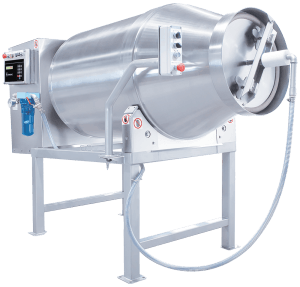 Massagers
Sipromac has seven models of massagers with a large holding capacity ranging from 500 to 10 000 lb. The smooth and readily accessible surfaces can be easily cleaned in compliance with the most stringent FDA and CFIA sanitary standards.
The helicoidal paddle turns gently so as to massage such fragile products as fish or chicken without harming them. Sipromac massagers marinate food in a continuous vacuum for superior results.
Models │ ET-3 │ ET-5 │ ET-10 │ VT-500
Smokehouses, Cooking/Drying Units & Steam Cooking Houses
Sipromac has seven models, each comprising a smokehouse, cooking and drying cells, steaming cells and smoke generators. These models are available in different sizes, each with an impressive holding capacity. Customized models may be built to better meet your needs.
They are equipped with an electrical heating system, three temperature settings (humid, dry and internal product temperature) and a semi-automatic washing and rinsing cycle for the ventilation system and cabinet.
Models │ SC-20 │ SC-40 │ S-11 │ S-12 │ S-13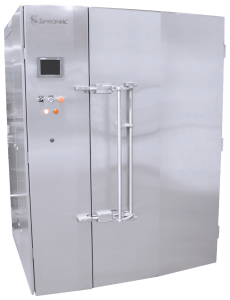 Cryogenic Cabinets
Sipromac cryogenic freezers comprise an adjustable ventilation system and high-density semi-rigid rock wool insulation. The integrated liquid nitrogen system (LIN) of these cryogenic freezers can rapidly freeze or cool foods so as to preserve their characteristics and properties.
CSA approved Sipromac cryogenic freezers have electronic controls, including a temperature sensor and a screen displaying the time remaining for and duration of the operating cycle.
Model │ BF-40