Zazula sells and services Busch Vacuum Pumps and accessories. Busch was founded in 1963 and Zazula began our representation partnership in 1985 with the largest manufacturer of vacuum pumps, blowers and compressors in the world. Parts, accessories and loaners are stocked in our Calgary facility. Our trained technicians and technical sales representatives will guide you through the many vacuum pump choices and assessments.
Industry Sectors
Chemical and pharmaceutical processing
Food packaging
Forestry
Plastic manufacturing
Meat processing
Thermoforming
Printed circuit board testing
Laboratories
Hospitals
Printing
Wood working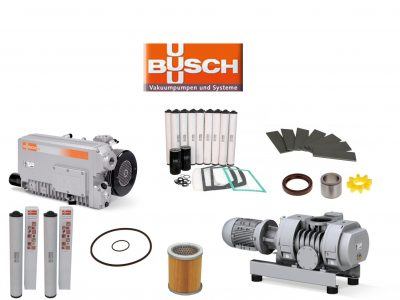 Commonly used Busch Vacuum Pumps for Packaging Applications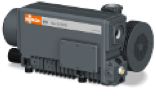 Rotary Vane Vacuum – R 5 Oil-Lubricated Pumps
Safe and cost-effective
Rotary vane technology has been continuously developed and optimized by Busch over the decades, with the emphasis on operational reliability and efficiency. R 5 rotary vane vacuum pumps are known throughout the industry for their modern and energy-efficient vacuum generation, in a wide range of applications. Whether for intermittent or continuous use, you can rely on the R 5.
Proven
These compact R 5 vacuum pumps owe their robustness to proven rotary vane technology with recirculating oil lubrication. This guarantees a consistently high vacuum level which can cope with the toughest operating conditions. When fitted with a gas-ballast valve (optional), vapors can be pumped without condensation.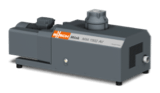 Dry Claw Vacuum Pumps – Mink
Ultimate pressure: 15 – 150 Torr
Pressure: 31 psig
Pumping speed 60 Hz: 23.5 – 677 ACFM
Oil- and contact-free operation
Mink claw vacuum pumps have been developed specifically for industrial applications in which constant vacuum, high pumping speed and completely oil-free compression are essential. Mink claw vacuum pumps operate contact-free; neither oil nor operating fluids are required during compression.
Highly efficient
The sophisticated claw technology of Mink claw vacuum pumps permits extremely high efficiency levels to be achieved, reducing energy consumption and increasing performance. These vacuum pumps operate contact-free and require almost no maintenance. In practice, this means 60% lower energy and operating costs compared to conventional vacuum generators.
The same claw technology is also used for Mink compressors. They provide oil-free overpressure at up to 2 bar (g) and volume flows of up to 580 m3/h.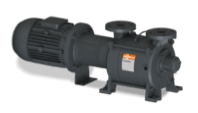 Dolphin Liquid Ring Vacuum Pumps and Compressors
Pumping speed to 2590 CFM
Vacuum to 25 Torr (29″ Hgv)
Dolphin pumps are the robust and proven liquid ring vacuum pumps from Busch. They are available as single or two-stage pumps with a directly flange-mounted motor, or assembled on a base plate. Their proven operating principle allows them to be used in all industrial sectors. Even critical applications such as the evacuation of saturated gases and vapours are easily managed by Dolphin liquid ring vacuum pumps.
Fiabile
Dolphin liquid ring vacuum pumps impress with their robust design. Thanks to the modular design of the base plate versions, custom systems can be produced easily to match specific processes.
Application-orientated
Dolphin liquid ring vacuum pumps are designed for continuous operation. Several sizes and versions are available, and the wide range of accessories and different workshop options allow vacuum pumps to be adapted to any process. Dolphin LX liquid ring vacuum pumps are also available in ATEX versions. Dolphin liquid ring technology can also be used for overpressure generation: Busch supplies Dolphin liquid ring compressors for overpressures of up to 2 bar (g).

Seco Dry-Running Rotary Vane Vacuum Pumps and Compressors
Vacuum to 74 Torr (27″ Hgv)
Pressure to 1.0 bar(g)
Pumping speed to 88 CFM
Compact, reliable and extremely powerful – these are the stand-out features of dry-running Seco rotary vane vacuum pumps. Their lubricant-free design makes them ideal for industrial applications in which rapid and reliable vacuum services are required.
Application-orientated
Seco rotary vane vacuum pumps are characterized by oil-free operation and high levels of availability and operational reliability. This is a result of design features such as hard-wearing and self-lubricating special graphite rotary vanes, robust construction and lifetime-lubricated bearings. The compact dimensions of the pump allow installation to be carried out almost anywhere with ease, whilst the energy-efficient drive ensures economical operation.
Easy to service
Maintenance is easy, and can be carried out by the operator. Apart from regular checks and the replacement of rotor vanes and filters at recommended service intervals, no additional maintenance is required. Seco rotary vane technology is also used in compressors: Seco SD rotary vane compressors generate an overpressure of 1 bar (g) oil-free.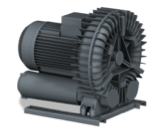 Samos Side Channel Blowers
Pumping speed to 1554 CFM
Vacuum to 13.1″ Hgv
Pressure to 6.2 PSIG
Samos side channel blowers may be used in all areas where pulsation-free vacuum and pressure services are required. Units may be installed horizontally or vertically. The die-cast aluminium construction makes this a very robust product.
Maintenance-free
Sealed-for-life bearings, a fan-cooled drive and a non-contact impeller all ensure that the Samos side channel blower is maintenance-free.
Environmentally safe
Samos side channel blowers are exceptionally environment-friendly, as they require no operating fluids. An internal silencer allows the Samos to run very quietly, whilst the drive has energy-efficient motors.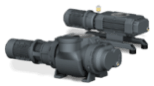 Panda/Puma Vacuum Boosters
Pumping speed to 1500 CFM
Differential pressure to 32 Torr
Panda and Puma vacuum booster are dry vacuum pumps that are used together with backing pumps in all rough and fine vacuum applications where large pumping speeds are required. Vacuum booster operate completely contact-free and without sealing fluids such as oil or water in the working chamber. Panda vacuum boosters are equipped with a by-pass valve.
Economical
Thanks to the large number of available sizes, the pumping speed and ultimate pressure can be tailored exactly to the process conditions. The high volumetric efficiency ensures a further increase in the economy of operation.
Safe operation
Tried-and-tested engineering together with a sturdy design enables safe operation. The Panda series' integrated by-pass valve allows for operation at any pressure level.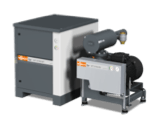 Tyr Rotary Lobe Blowers
Thanks to their robust design and precision manufacture, Tyr rotary blowers are extremely dependable and operationally reliable. Constant differential pressure in both the vacuum and overpressure ranges is ensured at medium and high pumping speeds.
Application-orientated
Tyr rotary lobe blowers are available as vacuum generators and overpressure generators. The six different sizes can be individually adapted to suit any application perfectly by selecting the drive and varying the speed. Depending on the version, the innovative noise insulation reduces noise emissions by 4 to 5 dB(A) compared to similar blowers. The acoustic cabinet (accessory) enables the noise level to be reduced by a further 15 to 20 dB(A).
Easy to service
Thanks to the non-contact operating principle, no operating fluid is required in the compression chamber. The operating pressure, filter and gear oil level can be monitored easily via displays on the housing/acoustic cabinet. Belt tensioning between the drive and the blower stage is performed automatically, eliminating the need for inconvenient checks and adjustment of v-belts.
Oil-Lubricated Rotary Vane Vacuum Pumps
Principle of operation
The rotary vane technology enables a technically simple structure of the vacuum pumps. The consistently high vacuum level in continuous operation is guaranteed through circulating oil lubrication, perfectly coordinated materials and state-of-the-art and precise manufacturing. The standard oil separator ensures clean and oil-free exhaust thanks to its sophisticated extractor system with integrated oil return. When fitted with an optional gas ballast valve, even large amounts of vapour can be processed. A non-return valve in the inlet flange prevents air from flowing back into the vacuum chamber when the vacuum pump is switched off.
Dry Claw Vacuum Pumps and Compressors
Principle of operation
With claw vacuum pumps, two claw-shaped rotors turn in opposite direction inside the housing. Due to the shape of these claw rotors, the air or gas is sucked in, compressed and discharged. The claw rotors do not come into contact either with each other nor with the cylinder in which they are rotating. Tight clearances between the claw rotors and the housing optimize the internal seal and guarantee a consistently high pumping speed. A synchronization gearbox ensures exact synchronization of the claw rotors.
Vacuum Boosters
Principle of operation
Within the housing of rotary lobe vacuum boosters, two lobes rotate synchronously. Due to the special profile of the rotating lobes and their precise manufacturing, they do not come into contact with each other or the housing. This makes it possible to pump a medium without the need of any operating fluids. The synchronous rotation of the lobes is driven by a pair of gear wheels located on the shaft ends in the gearbox and separated from the compression chamber.
Positive displacement pumps – are efficient in situations requiring low vacuums. There are many common positive displacement pumps, but there are two that are used for most industrial applications: the diaphragm pump and the rotary vane pump.
Rotary Vane Pump – The rotary vane pump is the most common vacuum pump. It consists of a cavity with a rotor that has vanes attached to it. They can often be a circular rotor that is offset inside of a circular cavity. The vanes seal the edges of the cavity by sliding in and out of the rotor. This design is simple and doesn't require a lot of power. It is reliable and economical.