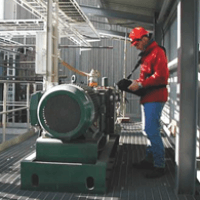 Service Repair Programs Zazula offers
Genuine OEM Parts and Repair Procedures

New Equipment Sales and Trade Ins / Discounted Exchange Programs

Infield Repair – Mobile Field Truck

Rentals and Equipment Loaners

Training Sessions for Mechanical Seal Maintenance
Commissioning and Installations of New or Repaired Equipment
Provide hands–on or supervisory assistance in configuring the equipment for start-up.
Check power at the equipment.
Test external bearing temperatures.
Measure shaft run-out to ensure conformance to specifications.
Visually inspect the equipment for any abnormalities that could jeopardize optimal equipment performance.
Complete a comprehensive Commissioning Checklist to confirm that all equipment specifications are met, and that all recommended start-up procedures are completed.
Lightnin Mixer Gear Box Exchange
A completely rebuilt reducer to like-new conditions. The exchange reducer program is available for the following Lightnin Models: 70/80, 90, 700/800 high speed heads, 700/800 complete gear boxes.
Exchange services allow the customer to get a direct replacement gearbox for a fraction of the cost of a new one.
Lightnin's 48-hour "Break-down" delivery limits your scheduled down time, thus reducing your production losses to a minimum.
Lightnin's exchanges are held to original manufactured standards and include the same warranty as new equipment.
✓ QUICK QUOTE Estimate Turn Around!
✓ Month Warranty on Repairs.
✓ 45 Years of Sr. Technical Service Experience.
✓ In Stock Genuine OEM Spare Parts
✓ Air, Oil Filters and Lubricants as well as Service Kits
✓ Testing to the Manufacturer's Defined Standards
✓ Mobile / Field Service and Equipment Repair & Installation.
✓ Maintenance Program Offerings. (Special pricing & promo blitzes)
✓ No Lost Downtime – Loaner/Rental Program Available!
✓ Easy Direct Access to Zazula Technical Representatives.